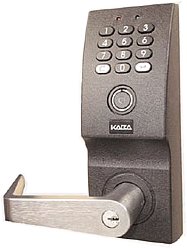 Electronic access with no batteries or wires? You bet. The new PowerLever® Door Lock, featuring the exclusive PowerStar® technology, generates its own electrical energy with each depression of the lever. It's electronic access control – with a twist.
You'll also get a charge out of the PowerLever Door Lock's conventional features. Like easy PIN changes, a free-wheeling lever, and designated code lockout. Windows® compatible software makes managing access schedules, user and audit data a snap. It's also ADA compliant, BHMA Grade One certified and easy to install. Why install anything else?
PowerStar Technology — Use of an internal generator creates all the necessary power. No batteries or external wiring required.
| | | | |
| --- | --- | --- | --- |
| Model | 1550 | 4550 | 455x (for panic devices) |
| Number of Users | 20 | 3000 | 3000 |
| Audit Trail Records | N/A | 23,000 | 23,000 |
| Programmable Schedules | | 7 | 7 |
| ADA Compliant | ü | ü | ü |
| Access by PIN | ü | ü | ü |
| Access by Smart Key | | ü | ü |
| Access by PIN + Smart Key | | ü | ü |
| Software Programmable | | ü | ü |
| | |
| --- | --- |
| Keyless Entry | No more bulky key rings to keep track of; no more lost keys, rekeying expense or inconvenience. |
| User-Changeable PINs | Each user's PIN is unique and can be changed at any time. |
| PowerStar™ Technology | No batteries, wiring, maintenance, hassles. Depressing the lever energizes the lock. |
| Managerial Lock-Out | A user (or group of users) may be locked out, at the discretion of the lock manager to control lock access. |
| Choice of Finishes | Black Powder Coat Body with Brushed Chrome lever or Chrome Body with Brushed Chrome lever (US26D). ADA-Compliant Lever with Clutching Mechanism. |
| Wrong-Try Lock-Out | Prevent "hackers" from determining the combination through trial and error. |
| Optional Audit Trail | Record up to 23,000 audit events with date and time stamp. |
| Access/Traffic Control & Access Schedules | Access only with a valid PIN. Restrict access with the optional Time Zone/Access Schedule feature. |
| User Friendly Software | PowerLever software allows you to control hundreds of containers with no special wiring. The Windows® point-and-click interface makes it simple to install and use. |
| Palm™ Interface | Link your PC and your lock together via the Palm™ Interface to share and retrieve data. Create user tables and retrieve audit data from the PC or the PowerLever Door Lock. |