Long Island Locksmith has been a part of Long Island for over 50 years.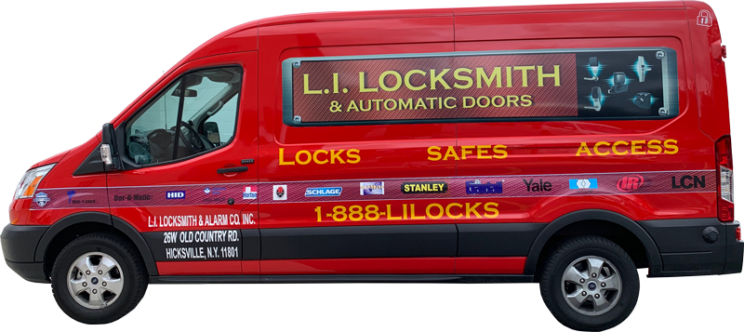 We are a leader in the Physical Security Industry. Our reputation is impeccable and our servicemen are craftsmen in our trade. L.I. Locksmith is recognized by many manufacturers in the Security Industry and we have been Factory-Authorized to sell, service and repair their products. We partner well with Building Engineers, IT Professionals and Service Management Companies to provide our customers with all the latest advancements in technology and security products.
Mechanical Locking Hardware – (Locks, Deadbolts, Panic Devices, Masterkey, Restricted Key)
Electronic Security Systems – (IP Based & non IP based Access Control & Digital Video Surveillance Systems)
Door Automation (Sliding, Swinging, Bi-Folding, Revolving, ICU CCU)
Automotive (Locks, Transponder Chip Keys, Remotes)
Safes & Vaults (Burglary, Fire and Data Safes)
Our retail store & safe showroom Located at: 26W. Old Country Road in Hicksville, NY is equipped with the most accurate computerized key cutting machines available and our walls are covered with an incredible selection of keyblanks. Our service counter is staffed with experienced technicians to repair your locks or help you find the best security solution to meet your needs. we offer a phone in order service with shipping to the destination of your choice. Furthermore, we are well versed in the new Americans with Disabilities Act Title III and the NFPA 101 Life Safety Code as they relate to doors and door hardware.
Our Door & Automatic Door Division is truly an ABSOLUTE SOURCE for ALL your door needs! Doors, frames, hinges, pivots, closers and checks. Panic hardware, Locking Hardware even view lights. We install, repair and maintain Automatic Doors on any size facility. Regardless of the manufacturer, Horton Automatics, Dor-O-Matic, Keane Monroe, Record USA, Besam, Stanley, Gyro Tech and many others, we'll get you working right! We can customize door closers and floor checks with just the right spring tension for your installation. We are also equipped to repair and rebuild existing closers and checks. Click here for more information
Our road service technicians cover the tri-state area in our fleet of modern service vans, radio dispatched and substantially stocked to service our customers quickly & efficiently.
Our contract hardware wholesale supply division puts our knowledge and expertise to work for you. We offer discounts to large organizations on most products we sell. We do more than just distribute product, we actually use it, install it, repair it and can recommend options to ensure your installations and your product turnover is smooth and right.
Long Island Locksmith offers all our valued customers. Please call our office to discuss this service further.