Rear load also available!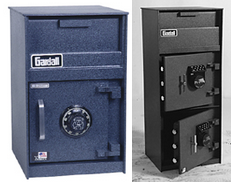 Designed to protect money collection where immediate deposit is required. Deposit can be made into the safe while the door is locked. Exclusive baffle design resists contents being removed through the entry opening.
Anchoring Holes in base.
Finest Quality Group II U.L. Combination Lock or Double Key Locks — Requires 2 keys to open.
Triple bolt-work with independent relocking device. (Models 1228, 1328)
Relocking device — If back cover is knocked off of lock, the independent relock device is activated, preventing bolt withdrawal. Available on either combination or dual key operated doors.
Front Loading Capacity – designed to fit most large money bags.
CLASS B Insurance Rating — 1/2″ steel door with punch resistant bolt and relocking device to deter forcible entry. 1/4″ steel body construction.
Model

Outside Dimensions
Inside Dimensions
Weight
(lb.)
Lock Type
Retail
List
Price
Internet Sale Price
H
"
W
"
D
"
H
"
W
"
D
"
Single
Door Safes
FL1218
18 1/4
11 1/2
13
11
10 3/4
10 3/4
105
Keys

$
Call Us
Dial
$
Call Us
FL1328
25
14 1/2
13
14 1/4
13 3/4
10 3/4
165
Keys
$
Call Us
Dial
$
Call Us
BL1328
25
14 1/2
13
14 1/4
13 3/4
10 3/4
165
Keys
$
Call Us
( Rear
load)
Dial
$
Call Us
Double
Door Safes (drops only fall
into top safe)
FL2812
26 3/4
11 1/2
13
T
8 1/2
10
3/4
10 3/4

170
Keys

$
Call Us
B
9 3/4
10 3/4
10 3/4
Dial
$
Call Us
1 of each
$
Call Us
FL1337
36 3/4
14 1/2
13
T
12 1/2
13 3/4
10 3/4

215
Keys
$
Call Us
B
12 1/2
13 3/4
10 3/4
Dial
$
Call Us
1 of each
$
Call Us