PROTECT YOUR VALUABLES
CAMPUS VAULT
Only $299.00 plus shipping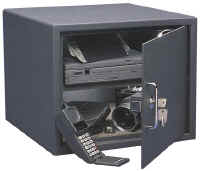 Amsec Campus Vault is great for securing your valuables. You can store laptop computers, cameras, portable phones, and all of your valuables with a feeling of security. Comes prepared with holes for bolting down or a cable tie-down kit is available. Vault measures 12 1/4″x15″x16″.